Oyster Lover's Paradise
Jolie Pearl Oyster Bar provides a culinary feast that exceeds the highest standards for even the most discerning oyster aficionados and enthusiasts.
Our Story and Concept
Our vision is to showcase oysters from regions all over the United States and Canada.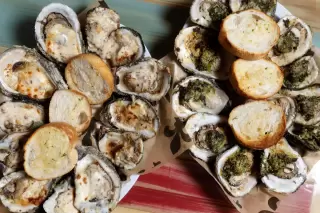 Jolie Pearl features select oysters from renowned oyster beds throughout the coastal United States and Canada, from the Pacific to the Atlantic to the Gulf. Raw, charbroiled, roasted, and in shooters, our oysters will be served your favorite ways to provide each guest with the ultimate oyster experience.
At Jolie Pearl freshness is the name of the game. From our fresh oysters to our freshly-squeezed specialty drinks, we offer nothing but the highest in quality and finest of taste.
Serving Southern Louisiana Since 2014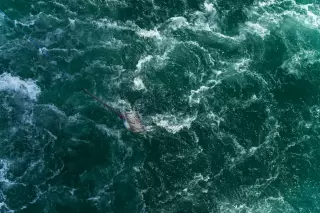 Customer Reviews
The Finest Oysters in Baton Rouge
Excellent food and service! Can't ask for more when you want to taste Baton Rouge. I will be recommending it to friends.
What a great place in downtown BR. Friendly staff, great drinks (strawberry rhubarb 75), can buy the oysters grilled or oven baked in 2s, 4s, etc to sample different ones. Meal portions are huge. Took home most of my muffelata. Songwriter Sunday is a must to enjoy.
Lovely downtown pub with live music and outdoor seating, across from Library. Modest but sufficient selection of beers. Nice place for a beer on a Saturday afternoon.
Found this place near our hotel in the downtown area. Food was delicious. Grilled oysters, crab cake sliders and catfish po-boy. We were there on a Sunday which is Songwriter Sunday. Great music too. A great find.
What a delightful place! And everyone that worked there seemed to totally LOVE working there and the food and beer were great as always... My server's name was Grace, who was engaging and very positive... I'd give this place 6 stars if I could.
Great chill place for amazing drinks, oysters, and other entrees. Kristin is amazing and the staff are fun, pro, and great at taking care of us.
What a great place with outstanding oysters! We were craving fried tonight and Jolie hit the spot! It's kind of like a oyster sport bar if there is such a thing. I got a po-boy and the better half got a salad. We'll for sure be back to try out some of the other items.
Listen, skip any other type of oysters they offer and head straight for those Grand Isle babes! So sweet. So clean. The best! Dont get me wrong now, the others are good.. BUT you just can't beat the Grand Isle. Very awesome atmosphere and the building is just too darn cool! I definitely have this place favorited on Google maps! Enjoyed it!
Great selection of oysters and delicious appetizers. Good drink specials too.
Most amazing place! Great oysters, friendly staff and top shelf beverages.
We love eating at Jolie Pearl in general, they're the best spot in town for oysters year round. Recently we hired them to cater raw and chargrilled oysters at our wedding and it was awesome! Everyone loved the oysters and the staff was fantastic! They brought all the fixings and made the oyster bar look great! We have been getting rave reviews since. I really wanted an oyster bar at my wedding but had no idea how to pull that off. Jolie Pearl stepped in about a month before my wedding and made it happen!
Found the pearls on Our 22nd anniversary. 7 yrs ago found one on our anniversary. Always great fun and great quality oysters.
Jolie pearl has some of the best drinks in town! Their margaritas are awesome and the satsuma lemonade is delicious! On top of all that, the service there is the best in Baton Rouge. 10/10 recommend!
Great oysters, staff is friendly and helpful. Worth your time if you're visiting
This is an amazing place to visit if you come to baton rouge and want a great experience and great food! If you ever get the chance to visit ask to speak with Raymond, he is awesome. They have oysters from all over the USA. Try the chargrill and from the brioler oysters. Have a fresh margerita and cold beer with a shot of Grand Mariner. Don't forget the seafood poboys.
I LOVE this place! The servers are super friendly and the food always comes out great. I'm a fan of their fried shrimp!
Walked in about an hour before close and 5 STAR SERVICE AND FOOD! Definitely one of the best spots for date night or even group gatherings!!! Drink menu is awesome and best bloody Mary in town. Definitely will be home for our love of oysters!!!
Get ready if you really love oysters - these are the best I've tasted in a while! I had 4 of the Brie and Bacon and 4 house style chargrilled - the seasoning and preparations were delicious, but the oysters themselves were astounding! They were lush and fresh and juicy and cooked perfectly - I was so in awe that I took a close-up photo for you! The ouster was beautifully intact and firm, gorgeous and delicious. I washed it all down with yummy grapefruit margarita. The service was great, even though the lunch server was by herself. I wish I worked downtown! Highest recommendation!
Catfish Po Boy was delicious! Dirty Shirley was awesome! Savannah was amazing! The whole bar staff was adorable! Don't miss this spot.
This was our first time at Jolie Pearl and it did not disappoint! We went on a Saturday night and did not wait for a table. The oysters were delicious! Tried the raw flight and had 1 of each of the baked and charbroiled they offered! Not on the menu that way so just ask!! The hubs had a hot ham and cheese poboy and fries which was good as well!! Definitely will make a stop when in BR next time!
Great fresh oysters and absolutely amazing service. I would absolutely recommend Jolie pearl and will definitely be coming back!
Check out the size of these gulf oysters!! I don't eat them but hubby was impressed!!! The shrimp and corn bisque was very yummy though!!